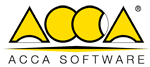 ACCA software is one of the world's leading providers of software solutions and services for the architecture, engineering and construction industry. 
Transforming BIM to openBIM® is our mission, as claimed by Guido Cianciulli, ACCA software' CEO. "BIM can only be implemented with success if all construction industry stakeholders can easily collaborate with each other to create and update the information model. 
Everyone must be free to contribute in the BIM process with their own knowledge and technology, working on open and common data. We truly believe that BIM can't exist without openBIM® and transforming BIM to openBIM® is our mission. 
We are working to substantially change the BIM process, focussing mainly on the use of the information model and not on the software as is currently the case. 
Our intent is to make BIM more democratic with open collaboration spaces, easy-to-use tools, that work on standard formats and costs that are accessible to everyone and in all countries. 
We are convinced that our membership in buildingSMART, as an international partner and our direct collaboration with multiple national chapters, will allow us to better respond to the needs of those that, like us, cannot see the development of BIM without openBIM®".